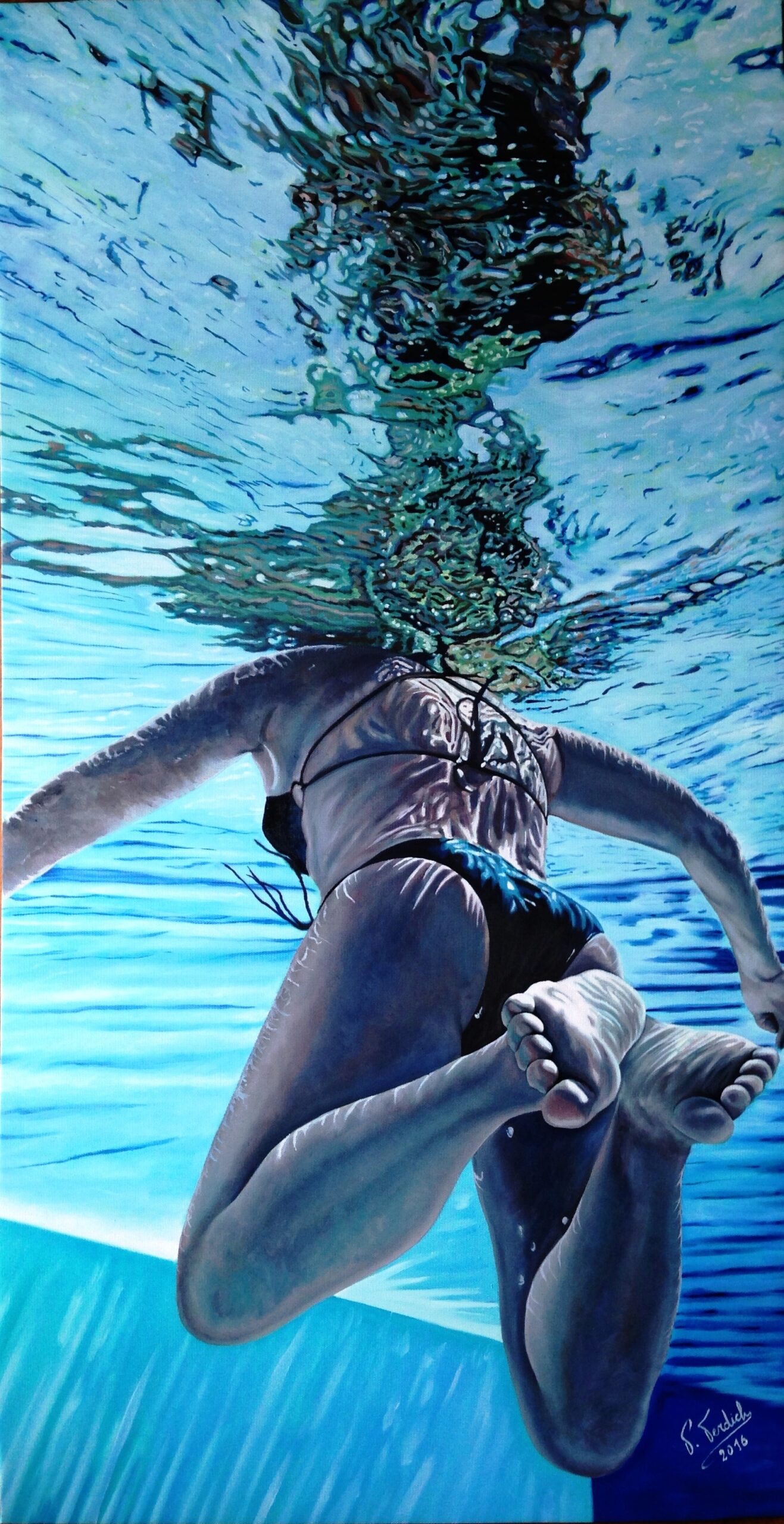 Contemporary Figurative Artist...
Through the representation of a "Surreal Realism", which is sublimated in the cycle dedicated to water, my aim is to propose paintings that, for compositional dynamism and chromatic vivacity, communicate infinite sensations of movement, freedom, quiet, suspension. The prevalent use of the color blue, as a symbol of tranquility and harmony, contributes to the emotional balance generated by these works, while transmitting serenity and relaxation.
In these works I leverage my expressiveness to realize, through the visible, the experience of the invisible. This is how I try, with rather complex and challenging compositions, the rendering of water, the story of the sparkle of light on a surface perpetually in motion. Water, the main protagonist of the narrative, merges with the human figure, dressing it with new life. Immersed in the transparent liquid, whose symbolic component has its roots in the sacredness of baptism, purification, rebirth, transformation, reflection, the human figure is lost in it, letting the water distort its contours, mixing with it and almost becoming part of it. My transparencies explore the possibilities of the perception of reality, and the field of the visible thus becomes the space of vision and color. Water then becomes a container of light, a territory of vision, a mysterious narration of inner conflicts.
My apprenticeship and artistic maturity did not follow a classic path. Initially I attended various painting courses, experimenting with different styles. The artistic approach evolved via the use of various techniques, from graphite, to watercolor, to acrylic and, finally, to oil. It is a continuous technical challenge in the attempt to make visible and tangible emotions and feelings with the use of different media and tools. 
My favorite subjects are human figures represented in situations of intimacy and solitude, in metaphysical and surreal atmospheres, both in confined environments, where their inner torment is expressed, and in aquatic environments, from which a profound sense of quiet emerges. The aim is to render detailed figurative subjects, characterized by luminous surfaces and compelling images that offer a combination of disquiet, uncertainty, urgency, calm, and spirituality. Meditative in tone, I also try to exalt the light, to obtain paintings pervaded by uncommon atmospheres and shot with an evanescent brightness.
The works presented span about twenty years of activity and are gathered into three categories: portraits, still lives, waters.